Siddi Saiyyed Jali Mosque
The Siddi Saiyyed Mosque was built in 1573 by Siddi Saiyyed, an Abyssinian in the retinue of Bilal Jhajar Khan, a general in the army of the last Sultan Shams-ud-Din Muzaffar Shah III of the Gujarat Sultanate. The mosque is famous for beautifully carved ten stone lattice work Jalis on the side and rear arches. The tree of life has come to symbolise the city and its grandeur. It is built with yellow sandstone in Indo-Islamic style of architecture.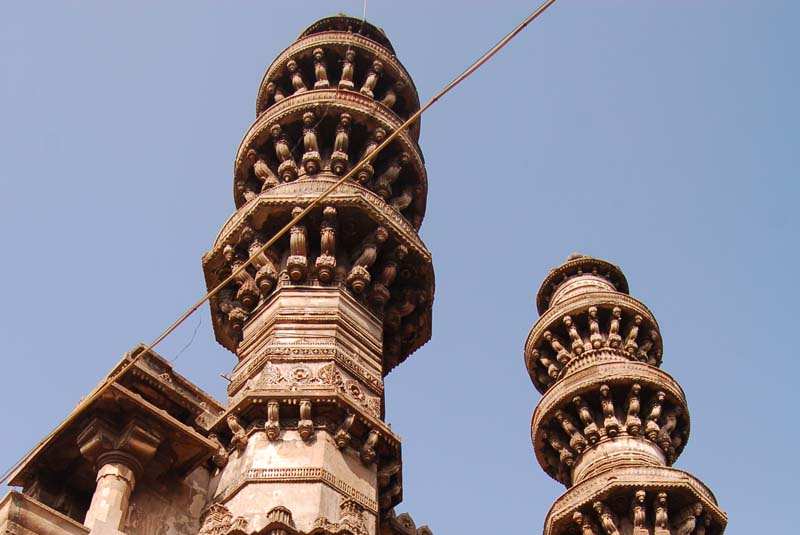 Popularly known as the Shaking Minarets, the Jhulta Minaret is within the vicinity of the mosque Siddi Bashir that was built in 1452 AD by Siddi Bashir. True to its name, when one minaret, located opposite the Sarangpur Darwaja, is shaken, then the other minaret also begins to vibrate. Designed and articulated with utmost attention, it has elements of local indigenous tradition and Islamic tradition with delicate stone reliefs and traceries.
Apart from these heritage sites, Ahmedabad has the Sabarmati Riverfront along with a wide choice of malls, multiplexes, cafes, street food joints at Manek Chowk, and dining places, especially the Patang Restaurant, which is a rotating restaurant situated next to the Sabarmati Riverfront.